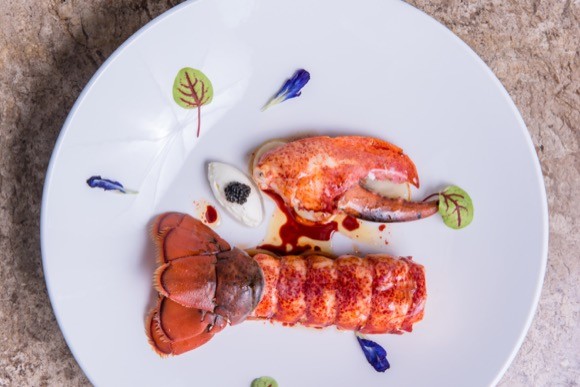 An evening at Sirocco has been considered a fine dining experience ever since the world's highest alfresco restaurant first opened its doors – a distinction that was confirmed when the restaurant received a Perfect 10 from Thailand Tatler for all four categories of Food, Wine, Ambience and Service.
The sense of 'having arrived' at the iconic Bangkok rooftop restaurant begins with the ascent to the 63rd floor and the walk down the artistically lit staircase, with the city view in Bangkok below and the soothing strains of the jazz band resonating through the warm breeze.
To your right, perched on a precipice overlooking the city, the celebrated vertigo-inducing Sky Bar considered the top bar in Bangkok. Just ahead, authentic Mediterranean cuisine, beautifully created with the freshest ingredients from the world's finest markets by Chef de Cuisine Sebastien Pinson, who brings to Sirocco, the highest al fresco restaurant, decades of gastronomic experience at the starred restaurants and hotels of Europe and Asia, along with a pantry brimming with exclusive ingredients, many of which have never before been seen in Bangkok.
Visit Us